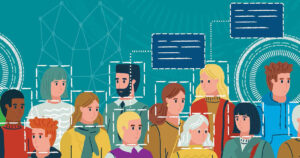 Facial recognition was originally developed in the 1960s and gained profound popularity in the early 1990s when the United States Department of Defense began using it. Today, facial recognition is omnipresent, and we often don't even think about it. But the use of this technology is not without controversy. Studies have determined that individuals with darker skin tones are particularly likely to be misidentified by facial recognition technology. Current concerns around the accuracy of the matching process against massive databases has enormous ethical implications.
Know the Difference: is it Verification or Recognition?
There are two main tasks that facial recognition performs—verification and recognition. Verification is limited to the task of comparing a consensual biometric photo profile against another biometric profile. This is a referred to as "one-to-one" matching. An example is the unlocking of smartphones with facial identification. When setting up the system, the phone will register the phone's owner's face. Therefore, the only task when unlocking is to compare the phone handler's face to the registered face on the device.
Conversely, recognition is the task of comparing a biometric photo profile against a database of biometric images to derive the identity of an individual. This is a referred to as "one-to-many" matching. For example, the FBI has access to an estimated 140 million face images through the Facial Analysis, Comparison, and Evaluation (FACE) Services unit, which is authorized to use state DMV driver's license databases.
Legislative Trends
Many states are working to limit and even ban the use of facial recognition technology by state and local agencies. Unfortunately, these broad restrictions may carry unintended consequences. Courts and community corrections agencies (probation and parole) regularly mandate individuals to remote alcohol testing for alcohol-involved offenses such as impaired driving or domestic violence. Additionally, COVID-19 supervision protocols have pivoted away from in-person supervision to mobile phone-based check-ins to supervise lower-risk caseloads. These devices have facial verification technology embedded in them to simply verify and authenticate the person's identity. A broad moratorium on facial recognition would prevent their use and would also do the following:
Increase jail populations by precluding the use of technology-driven jail diversion purposes
Reduce public safety by necessitating the reallocation of personnel to conduct labor-intensive manual review of offender photographs for verification purposes
Restrict judicial discretion by prohibiting the use of virtual, remote check-ins and other remote supervision tools critical to maintaining public safety and reducing jail populations
Public Policy Recommendation for Facial Verification
Distinguish between facial verification and facial recognition–technology embedded with facial recognition that verifies and authenticates a person's image using one-to-one matching plays a crucial role in community supervision and jail depopulation. 
---
Infographic: Verification vs. Recognition